20% OFF BLACK MONTH

LIMITED TIME ONLY
BLACK SALE - TAKE 30% OFF NOW
Premium Sterling Silver Jewelry
We are known for our long-lasting, waterproof and responsibly sourced Sterling Silver.
We thrive for quality instead of quantity, therefore all our pieces are being manufactured by hand as well as in small quantities.
All our jewelry pieces carry finest Sterling Silver and 18K plating for a long-lasting effect.
How are we still staying then affordable you are asking? Well, we are trying to stay competitive and affordable without adding too high margins as we are more passionate about the designs than something else.
Now, get your hands on your favourite items before you miss them. The might not get in stock again soon.
Much Love, Nasi
Founder of Pour Toi
SEE MORE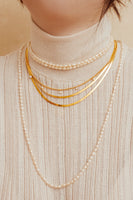 LOVE A PROPER LAYERING
Did you know you can mix and match all of our jewelry to your very own created style?
Chose from a fine selection of necklaces and create your dream layering.
SHOP LAYERS
Up your EARGAME
There is no party without an Earparty!
Shop from a range of earrings to create your very own ear game.
From sparkly to bold and chunky - consider elevating your ear game done!
SHOP EAR STACK